In which you tell us your favorite books for summer.
After hosting our first-ever Parapalooza event a few months ago, one of our favorite customers came by the shop, expressing interest in a similar event, only this time, he suggested we ask some of our regular customers to participate. "It's great to hear from authors," this customer said, "but I think it's even more fun to hear what my fellow readers have to say about a book."

Your wish is our command.

Tonight, we're hosting a panel of our favorite customers in a discussion inspired by summer reading. I'll be asking for their favorite titles, how their reading habits change during the summer, and what's on their list for the next couple of months.

Some of my favorite moments in the shop occur when I'm overhearing your conversations with one another; the way readers discuss books together is always so intriguing to me, and tonight promises to provide some of that fantastic conversation for both the panelists and the audience. Your conversations inspired this event, and I hope you'll come out and hear what your fellow readers have to say.

Tonight we'll also be launching The Bookshelf's annual summer reading challenge -- one for grown-ups and one for kids! -- filled with our staff's best book selections for the summer season.

This will be the perfect event for book clubs and reader friends; you'll walk away with great recommendations for the next few months, and you may even be inspired to join a book group or start your own. I hope we see you tonight!
---
SUMMER READING EXTRAVAGANZA
Tonight at 7 p.m.
Free and open to the public
Bring your book club and your reader friends!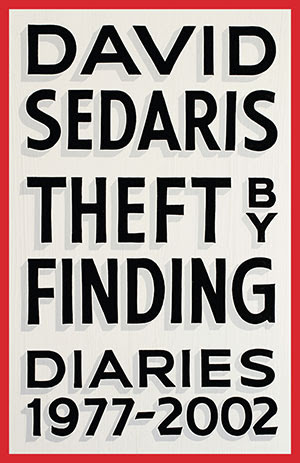 If you're a David Sedaris fan (and I hope you are), Theft by Finding won't disappoint. The book is a collection of Sedaris' actual diary entries from 1977-2002, and the snippets from his life prove he's a genius writer and comic. The introduction to the collection alone is worth reading, and Sedaris encourages his readers to take the rest of the collection in stride. Theft by Finding isn't a book to be devoured in one sitting; instead, it's designed to be read a few entries or sections at a time.

Theft by Finding currently has a reserved spot on my living room coffee table, ready to be picked up when I need a bit of humor or wisdom; we've got signed copies of this one in stock now, so call us to hold yours. I think it deserves a spot on your shelf.
This week on From the Front Porch, Chris and I chatted about first impressions, including my initial idea that Chris was The Bookshelf's own James Dean and why I hated Pride and Prejudice the first time around. We talked about why it's okay to judge books by their covers and when it's time to give a book a second chance. Listen on iTunes or the shop website.