In which we're saying goodbye to June in style
We're busy gearing up for some changes this summer at The Bookshelf. Perhaps you've noticed -- though maybe you haven't -- but there's a Bookshelf baby on the way! No, no, not mine. This soon-to-be-born little one belongs to Magali, our wonderful shop manager.

Magali is due with her baby boy at the end of July, so next week, we'll say our goodbyes as she enjoys some hard-earned maternity leave. To at least attempt to fill her extremely capable shoes, we're welcoming Maddie (our shop intern) and newbie Kate to the shop as part-time booksellers. You'll meet and fall in love with Kate and Maddie in the coming weeks, and our staff will spend July focusing on running the shop well.

I'll go to market; Chris will keep recording the podcast; Ashley will schedule events for this fall, and Kate and Maddie will be on hand to sell you their best recommendations for summer reading.

July, then, is really a transition month, which means we're ending June on a high note. We've got a book signing scheduled for this Saturday; Great Florida Cattle Drive is a gorgeous coffee table-style book, and author Nic Stoltzfus will be here to sign copies. Jordan's teaching his second chess class for beginners on Monday night (make sure to RSVP!), and then, drumroll, please...

On Thursday night, one week from today, we're hosting Tallahassee artist Janae Easton for our first-ever Ladies Drawing Night. Inspired by the popular book of the same name, Ladies Drawing Night is a ticketed event -- $20 per person -- guaranteed to be fun time for you and your girlfriends. Janae will be guiding us through a drawing project -- no artistic experience required! -- and you'll walk away with new friends and a fun piece of art.

Ladies Drawing Night is part of our new "Entertain Your Inner Nerd" series of events. Every month, we're inspiring you to go back to school at The Bookshelf. So far, we've partnered with other business owners to teach you how to plant your own succulents, craft your own wreathes, and learn the game of chess. This fall, we'll teach you how to care for houseplants and start your own bullet journals.

Next week, though, we're doing something really different, and I think it'd be a fun activity to do with your book club members and fellow wannabe creatives. (Don't let the word "drawing" intimidate you. I can't draw a stick figure, but I still plan to join in the fun. Janae's a great teacher, so you'll be in good hands.)

Tickets still available here. Join us?
---

LADIES DRAWING NIGHT
Next Thursday, 6/29 at 6 p.m.
$20 per person
Tickets available in-store and online
We're closing out June with some pretty fun events; don't miss any of them! (And, if you missed last week's fantastic Summer Reading Extravaganza, check out the pictures here, then pick up a copy of our summer reading challenge at the shop.)

+ Book signing with Nic Stoltzfus (Great Florida Cattle Drive) - Saturday, 6/24, 2 p.m.
+ Family Chess Night (RSVP required) - Monday, 6/26, 5:30 p.m.
+ Story Time at the Amphitheater, Tuesday, 6/27, 12 p.m.
+ Ladies' Drawing Night w/ Janae Easton - Thursday, 6/29, 6 p.m.
+ Shelf Talk + Signing w/ Kathy Bradley - Friday, 6/30, 7 p.m.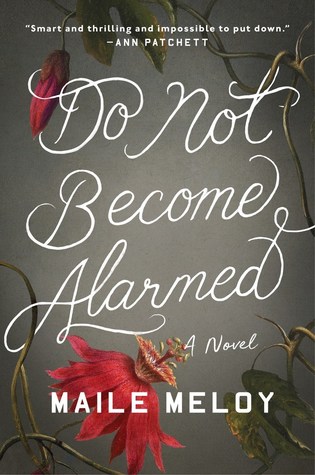 This is, in my opinion, the book of the summer. It's got suspense, intrigue, and family dysfunction, all set during a vacation gone terribly wrong.

Maile Meloy is well-respected for her young adult fiction, but Do Not Become Alarmed is her first novel for adults, and it's just completely mesmerizing. I read this one as an ARC a few months ago, but I told readers to mark their calendars; this one is the must-read for your vacations -- though perhaps not if you're going to be on a cruise anywhere. Perfect for fans of The Girl on the Train, The Vacationers, or The Woman in Cabin 10.
Inspired by last week's Summer Reading Extravaganza at The Bookshelf, Chris and I decided to give listeners a summer reading list. We featured some of our favorite newly-released titles, plus suggestions by fellow readers. Give the episode a listen here or on the store website.
-Annie