In which a Georgia author of the year is coming to town
I love when customers come to us with event ideas, new books they adore, and favorite authors. (See: this month's Summer Reading Extravaganza.) I especially love when serendipity -- and a little elbow grease -- work together to bring a customer's favorite author to town.

This Friday, we're hosting Georgia author Kathy Bradley thanks to a suggestion from a customer who happens to be a fan and friend of Kathy, and we're so grateful for that connection.

Kathy is an assistant district attorney, a newspaper columnist, and a talented speaker, but perhaps most importantly, she's a Southern writer. Kathy is an expert in what she's described as "place-based" creative writing -- she lives on a farm on the coastal plains of Georgia, and her life there informs much of her writing. (She refers to her home as both "her church and her classroom," a phrase I love.)

Her new collection of essays, Wondering Toward Center, takes her observations from life on her farm and turns them into parables for life in the 21st century, and on Friday, she'll join us to chat about her book and sign copies.

Kathy was recently recognized as Georgia Author of the Year for Wondering Toward Center, and it's our honor to be able to host her at The Bookshelf this Friday night. I hope you'll join us, rain or shine.

SHELF TALK AND SIGNING WITH KATHY BRADLEY
Friday, June 29 at 7 p.m.
Free and open to the public
Recommended for fans of Janisse Ray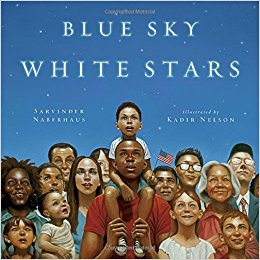 This week, I rearranged the books in our children's section and rediscovered some of my favorite books about America. With July 4 coming up, we've got a colorful state trivia book, a book about our nation's presidents, a book about the plight of the immigrant, and Blue Sky White Stars, a new book contrasting our flag with what makes our country so wonderful. The illustrations are gorgeous, and the book serves as a powerful reminder of who we are. I can't say enough good things about this one.