In which it's all fun and games.
I was in Target this week and couldn't believe they'd already cleared out their summertime section to fill with backpacks and notebooks for back-to-school season. I adore school supplies as much as (okay, more than) the next person, but it all just seems too fast. Isn't it too hot for school to be back in session?

We're not quite ready to say goodbye to summer yet, and we're guessing maybe you're not ready either. So tomorrow night (Friday, 7/21), we're staying open late and encouraging families to stop by for our first-ever Game Night. We'll have all the games we carry in the shop available to play: card games, chess, Word Dominoes, Bananagrams, and Tenzi, plus a board game or puzzle or two. Like what you play? Games will be available to purchase throughout the event, too.

Bring the kids; come as a couple, or come by yourself. $5 at the door gets your whole family in for a night of fun! We'll play games, enjoy some friendly competition, and pretend the first day of school is still far, far away.
---
GAME NIGHT AT THE 'SHELF
$5 per family
Tonight night, 7/21
6 p.m. until 8 p.m.
We're closing out July with a couple of fun, family-friendly events, plus we're gearing up for a busy fall, filled with book signings, educational classes (bullet journaling, anyone?) and more! Stay tuned for the full line-up!

+ Stitches and Stories featuring Hillbilly Elegy - Last night at 6 p.m. at Fuzzy Goat
+ Family Game Night - Tonight, 7/21, 6 p.m. -- $5 per family/couple
+ Story Time at the Amphitheater - Tuesday, 7/25, 12 p.m. -- Free and open to the public
+ We Found Waldo Party - Saturday, 7/29, 11 a.m. -- Free and open to the public

And... in case you missed it, we've created a new Shelf Subscription, set to debut in September! Find out more information and sign up here. (We're up to 20 subscribers already, and growing!)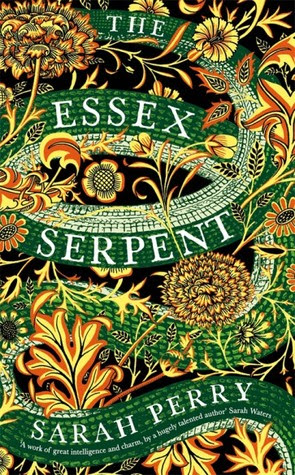 I've been drawn to slower stories this summer, and I think that's because my own life has been a little chaotic. I picked up The Essex Serpent at Page and Palette, another independent bookstore in nearby Fairhope, Alabama, and although the novel -- set in 1893 -- is completely outside of my typical genre, I was drawn to its premise. In the book, a widowed naturalist moves to the English countryside with her friend and her young son after hearing rumors of a deadly serpent wandering the nearby waters. Once settled, she befriends a priest trying his best to counter the rumors, preventing his parishioners from panic.

Sarah Perry is a talented writer, and The Essex Serpent moves along at the perfect pace. It's an intriguing story, and I loved how Perry weaved together faith and science, never shying away from their complexities.
This week on the podcast, I got together with friends Hunter (who's created all those staff drawings in our shop) and Emily (of You're Maker) to chat about the new memoir Priestdaddy by poet Patricia Lockwood. We had mixed feelings, so you'll definitely want to tune in! Full episodes of From the Front Porch can be found on iTunes or by listening here.
-Annie