In which it's time to get your tickets
I've loved planners and calendars and all manner of school supplies since I was a kid, and let me assure you: Just because I'm not in school anymore doesn't mean my passion has waned. In fact, minus the restrictions of an actual school supply list, I'm free to explore the wide range of supplies that await me in the aisles of various box stores, and now that I'm a shop owner? Every August and September, you can be sure you'll find notebooks and pencils and planners on our displays as well. (Right at this moment, I'm looking at our gorgeous new line of notebooks from DesignWorks Ink out of Nashville, Tennessee. Their pretty supplies are positively drool-worthy.)

We took my passion for planning a step further this month by scheduling a dot journaling workshop in the store. Why, you ask? My friend Cadence at Fuzzy Goat has been raving about bullet journaling (or dot journaling) for almost a year now, and she's got her system down to a science. When I saw a newly released dot journaling kit in a publisher's catalog, I knew it was meant to be: I had to ask Cadence to come lead a class.

So, on August 24, Cadence will be at The Bookshelf guiding us through bullet/dot journaling; participants in the workshop will receive a guide to dot journaling, as well as their own journal to get started. (You can snag your ticket online or in-store now!)

These are the types of events I love to host. The nerd in me (which admittedly, takes up a fairly large part of my personality) gets so excited about learning new things; add to that fact that this particular workshop is all about planning and making goals and to-do lists AND is hosted in partnership with one of my favorite people? Let's just say I'm pee-your-pants thrilled. I hope you are, too.
---
DOT JOURNALING WORKSHOP WITH CADENCE KIDWELL
Thursday, August 24 at 7 p.m.
Tickets available online or in-store
One $30 ticket includes Dot Journaling: A Practical Guide and a journal to get your started!
Here's our lineup for the rest of this month; just don't forget to snag your tickets to our Dot Journaling workshop:
+ Signing with Mary Abraham - Saturday, 8/12, 2-4 p.m.
+ Stitches and Stories - Thursday, 8/17, 6 p.m.
+ Dot Journaling Workshop - Thursday, 8/24, 7 p.m.

Go ahead and mark your calendars for these early September dates, which will be here before you can blink:
+ One Cork featuring Cassandra King - Thursday, 9/7, 5-7 p.m.
+ Essential Oils 101 - Friday, 9/8, 7 p.m.
+ Signing with Donna Brown - Saturday, 9/9, 2-4 p.m.

And one more thing... I'm partnering with Dara Barwick (from Dara Barwick Consulting) and Emily McKenna (from You're Maker) to host a day-long seminar for women entrepreneurs, by women entrepreneurs. We'd love if you joined us!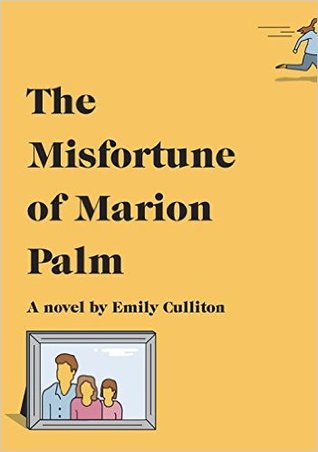 I started The Misfortune of Marion Palm after reading a couple of really good, but really dark suspense novels, and it was just what the doctor ordered.

Marion Palm is a middle-aged woman with a secret: She's been embezzling funds from her daughters' prestigious school. When things start to look suspicious, Marion leaves her home, her husband, and her daughters without a trace (kind of), and they're left to face the consequences of her abandonment.

The Misfortune of Marion Palm is funny -- it's just the kind of dysfunctional family story I love. For fans of Where'd You Go, Bernadette and Everybody Rise.
Still on the fence about our monthly Shelf Subscriptions? We devoted an entire episode to this new Bookshelf program; Chris and I interviewed fellow staffers, and this week, we're giving you a sneak peek into what books each bookseller is highlighting this fall. Listen on iTunes now!
-Annie