In which we're open late
I can't believe summer is winding down, partly because the temperature doesn't match all the backpacks and lunch boxes -- even Halloween decorations! -- I'm seeing around town. But like it or not, fall will be here before we know it, and at The Bookshelf, we're getting ready for the new season by filling our calendar to the brim.

Ashley is working hard to come up with a strong lineup of events for the store this fall, and part of her mission is to host two local authors in the shop every month. Bookstores wouldn't exist without the writers who support them, and it feels like our responsibility to provide a venue for local, regional writers to share their work.

Join us on Saturdays as we feature regional authors at afternoon book signings; this Saturday, we'll be joined by Robert Spearman from Hahira, Georgia. Robert is the author of Obadiah: A Ghost's Story. Set in South Georgia 40 years after the Civil War, the novel is the heartwarming tale of Obadiah Sampson, a carpenter's assistant who dies while helping to build a strange house for one of the town's wealthiest families, the Stanleys. Angels bar him from entering heaven and enlist him for an undefined mission.

Intrigued? We are, too. I hope you'll stop by Saturday and meet Robert and help authors like him find a home at The Bookshelf.
---

BOOK SIGNING WITH ROBERT SPEARMAN
This Saturday, August 5
2 - 4 p.m.
Free and open to the public
Hooray -- we're open late this Friday night for downtown Thomasville's monthly first Friday! Stop by and see us until 8 p.m. -- you can start your Bookshelf Bucks account and pick up a copy of our new Literary Lineup (a run-down of all of our events for the upcoming month).

On that note, our fall calendar is filling up fast. Tickets are on sale now for our Dot Journaling Workshop, Essential Oils Workshop, and our first-ever Literary Luncheon. Make sure to snag yours today!

And don't forget these upcoming events at the shop in August:

+ First Friday in downtown Thomasville - Friday, 8/4, 6-8 p.m.
+ Signing with Robert Spearman - Saturday, 8/5, 2-4 p.m.
+ Signing with Mary Abraham - Saturday, 8/12, 2-4 p.m.
+ Stitches and Stories - Thursday, 8/17, 6 p.m.
+ Dot Journaling Workshop - Thursday, 8/24, 7 p.m.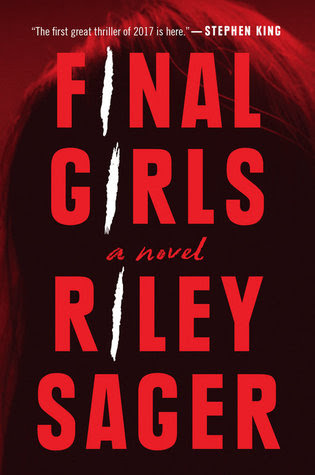 Looking for the perfect end-of-summer thriller? Maddie and I both read Final Girlsand loved it. The book is edge-of-your-seat kind of reading, and if you're like me, you'll start it and won't be able to put it down. The protagonist, Quincy Carpenter, is one of three "final girls" -- women who were victims of three different but equally horrificmassacres, and who were the only ones left when the massacres finally ended. Now one of the "final girls" has been murdered, and Quincy is caught in the web of mystery surrounding her death.

Be warned: Final Girls falls soundly on the gory and gritty side of suspense, but if you've got the stomach for it: Enjoy! (This one's for fans of Ruth Ware.)
It's time for a July reading recap! Hear what Chris and I read during the month of July, including more Elena Ferrante and What We Lose by Zenzi Clemmons. Give the episode a listen here, then subscribe on iTunes!